Welcome to the Wall of Remembrance Project
This project will create a single place of remembrance for all our fallen heroes - a place that families, friends and the general public can visit and remember. It will incorporate the names of the Canadian fallen in all conflicts of record, starting with the earliest. It's a Wall of Remembrance for both the living and the dead:a unique project by veterans and other proud Canadians.
NOTICE:
Please be aware there is a group misrepresenting our Association and this project. They are contacting our advertisers and thanking them for their previous support of the WOR or Wall of Remembrance and advising that our focus is shifting this year to support Courageous Companions. This is NOT truthful nor is the statement they make that you have supported them in the past.
The National Wall of Remembrance Association has no affiliation with Courageous Companions, RJC Sales or Acclaim Marketing whatsoever.
If you have any questions or concerns regarding this matter, please email us at:
inquiries@worgroup.ca

or call toll free at:
1(877)554-2622
We value our advertisers and it is through your support that our success continues. Please visit our virtual component as it progresses at www.canadianfallen.ca
Wall's support welcomed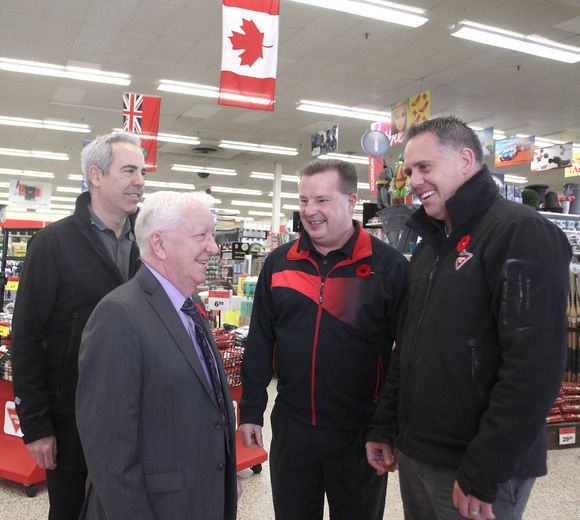 Allan Jones, second from left, the chair of a local group planning to build a wall of remembrance for Canadians who died in wars, meets with Canadian Tire associate dealers Dan Gostlin, left, Rick Smith and Jason Derbyshire at the Bath Road outlet in Kingston on Wednesday as they prepare for a coming military appreciation day at their stores. (Michael Lea/The Whig-Standard)
An idea that was hatched over coffee a couple of years ago will once again show members of the military how much their service is appreciated.
The three Canadian Tire outlets in Kingston will again be joining forces to host a Military Appreciation Day on Saturday from 9 a.m. until 1 p.m.<[...]
Read Full Article