Welcome to the Wall of Remembrance Project
This self-funding project will create a single place of remembrance for all our fallen heroes - a place that families, friends and the general public can visit and remember. It will incorporate the names of the Canadian fallen in all conflicts of record, starting with the earliest. It's a Wall of Remembrance for both the living and the dead:a unique project by veterans and other proud Canadians.
What's Happening
'Milestone' day for Wall of Remembrance
By Michael Lea, Kingston Whig-Standard
Wednesday, September 10, 2014 8:11:42 EDT PM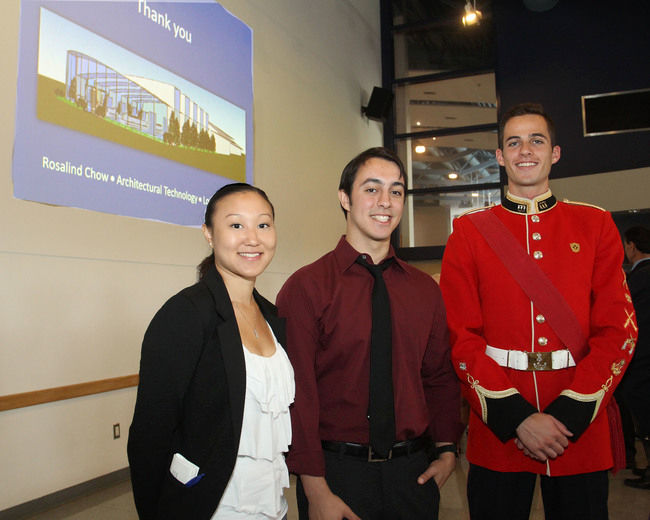 A national monument in Kingston honouring Canada's fallen servicemen and women is one step closer to reality with the announcement Wednesday of three designs that will be incorporated to produce the final structure.
The designs were submitted by post-secondary students to a contest organized by the National Wall of Remembrance Association.
The wall, both its physical site and an online component, will be located at the Military Communications and Electronics Museum on Canadian Forces Base Kingston. [...]
---
Wall of Remembrance to be built at CFB Kingston
Kingston, ON, Canada / CKWS TV
CKWS Newswatch
September 10, 2014 06:47 pm
A PERMANENT NEW MEMORIAL TO REMEMBER ALL OF CANADA'S FALLEN SOLDIERS IS COMING TO THE CITY OF KINGSTON. THE "NATIONAL WALL OF REMEMBRANCE ASSOCIATION" MADE THE ANNOUNCEMENT TODAY AT CFB KINGSTON. NEWSWATCH'S MAEGEN KULCHAR HAS THE DETAILS.
Since the war of 1812, over 118 thousand Canadian soldiers have died while in service to their country. It's those men and women who will soon be remembered through a one of kind memorial. It will be built here – beside the military communications and electronics museum at CFB Kingston.[...]
---